There are a couple of pieces that I have been loving this fall; some are old and some are new. I love fall. Most people hate how it can be freezing when they wake up and then by the afternoon they're dressed too warmly, but I just see it as a way to add a jacket or a scarf as an accessory to my outfit in the morning. The weather here hasn't been too cold yet, so I haven't had to worry about bundling up. These have been my go to accessories so far this fall:
LEATHER BIKER JACKET
On a stroke of luck I got this baby for a really good deal last winter. It was the only one on clearance for just over $100 at RW & Co. and it happened to be my size. I had been on the hunt for a leather jacket for a while and a biker jacket was what I was hoping to find. I love wearing it with jeans and a tee or weather permitting, pairing it with a dress. Biker jackets pair well with almost anything. I'm really glad I got this one, especially at such a good price.
Where to find a leather biker jacket:
H&M $79.95 CAD,
Zara $249.00 CAD,
Members Only- Urban Outfitters $399.00 USD
UTILITY JACKET
I've had this jacket from H&M for a few years now. I'm always happy to bring it out once the weather starts to cool down. I find a lot of people have olive coloured ones, so I love my khaki one. The colour looks great with almost every other colour so I find it really easy to mix and match with what's in my closet. It's easy to toss on before class if I'm in a rush, so I don't blame almost every girl my age for having one! Lazy chic.
Where to find a utility jacket:
Forever 21 $29.80 CAD,
H&M $49.95 CAD,
Free People $179.06 CAD
STATEMENT NECKLACES
I've loved the look of statement necklaces for a while, but never really had the courage to wear them until lately. Since I wear a lot of plain clothes, wearing statement jewelry can feel like the final touch on an outfit. I even wore a statement necklace to prom. Lately I've been wearing three. They're all pretty basic, but I'm definitely looking to get some more colourful ones in the next little while. The first my boyfriend got for me from H&M (he has good taste). I bought the second necklace in the spring from a store called Bizou. The third is another H&M necklace.
Where to find statement necklaces:
Forever 21 $11.80 CAD,
H&M $24.95 CAD,
Club Monaco $279.00 CAD
LEATHER SNEAKERS
These Keds were an impulse buy from SoftMoc and I couldn't be happier about them. These shoes have been so handy for when I'm rushing to get out the door to class at 8 in the morning. Since I wear quite a bit of black, they fit into my wardrobe really easily. They add a bit of edge to even the plainest outfits.
Where to find leather sneakers:
Keds $50.00 USD,
Converse- Urban Outfitters $70.00 USD,
Vans $60.00 CAD
BLACK SUEDE BOOTIES
I have two pairs... So clearly I love them. The first pair are Ecoté
and I ordered them from Urban Outfitters. I got lucky ordering a size online and actually having it fit. I love these booties because I can wear them with anything from cropped jeans to a skirt or dress. The height they're cut at around my ankle is perfect. I had a pair of black motorcycle boots that I loved so much that I wore until the soles had holes in them, so when I went out to get a new pair of black boots last fall and found the second pair in the picture at Aldo, I couldn't say no.
Where to find suede booties: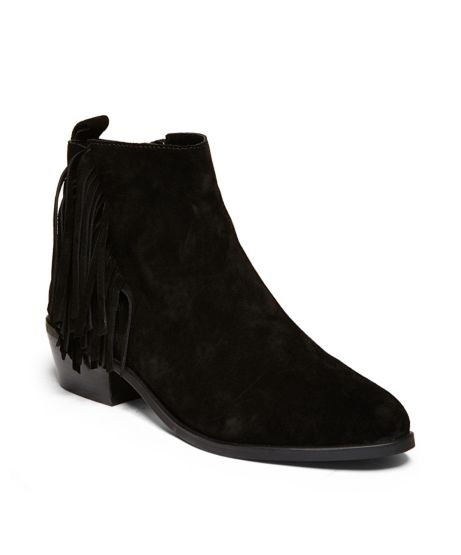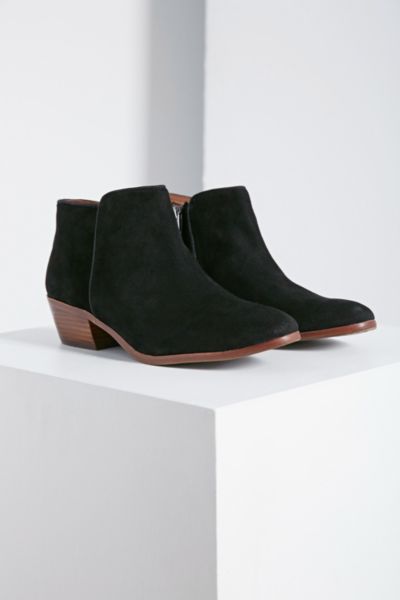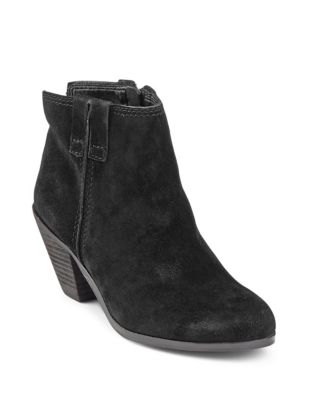 Steve Madden $129.95 USD,
Sam Edelman- Urban Outfitters $130.00 USD,
Sam Edelman- Hudson's Bay $139.99 CAD
HOW I WEAR THEM
I usually stick to basics and plain clothing when I get dressed which works out well when I want the focus to be on accessories.
All of these accessories are pretty versatile, simple and easy to throw on in the fall. I hope you've thought of a new way to wear something, or are thinking about giving one of these pieces a try!